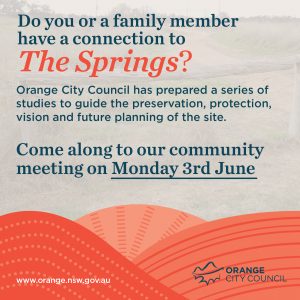 Do you have a connection to The Springs? It was a transient settlement known mainly from memory. It was a mixed Aboriginal, European and Asian community remembered from the 1920s and 30s about 4kms from Orange, past the rifle range and before Hawkes Lane.
Orange City Council has engaged OzArk Environment and Heritage and Sala4d to prepare a series of studies to guide the preservation, protection, vision and future planning of the site.
You are invited to attend a community meeting on Monday 3rd June at the Winhanganha Aboriginal Learning Centre, TAFE Western Institute, March Street, Orange, commencing at 10.00am – 3.00pm, or drop-in for a cup of hot soup and discuss over lunch from 12.30pm – 1.00pm.
RSVP your intention to attend Council's Community Museum and Heritage Manager, Alison Russell 6393 8170 or heritage@orange.nsw.gov.au